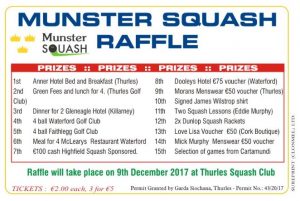 It was at the Munster Senior Open in Waterford last weekend that Munster Squash launched a fundraising raffle for Junior Squash Development in our Provence.
Five clubs (Highfield, Celtic, Thurles, UCC & Killarney) are taking part in this wonderful opportunity to raise some much needed funds for Junior Development.
50% of funds raised within a club is going back to the club itself, with the other 50% of monies going towards funding a Junior Munster Development Programme.
The draw will take place in Thurles on Sunday 9th December at the Munster Junior Invitational.